So . . .two weeks ago I blogged to you all about the
HoMedics Clear + Acne Professional Cleaning System
. I was very skeptical about the product but nevertheless I gave it a fair trial, and as promised would feedback to you all about my experience with this little gadget. Today is results/review day, so here goes and I hope you find this post enjoyable.
It is no secret that I have bad skin and have tried a lot of things to try and get rid of the little blighters, and fade out the blemish marks. So when I heard about this product I thought ''
Oooo, this seems pretty interesting
'' especially with the statement claims the brand have made. I decided to give this product a good 2 weeks trial; using morning and night. My skincare regime remained the same, but I followed the instructions and made sure I used the device after I had cleansed my skin. The area I chose to treat was a crop of spots that had made a lovely appearance not far from my nose. They were dark in colour, very sore, red and quite angry looking.
''The HoMedics TANDA Clear+™ uses a unique super luminous diode array to stimulate fractional phototherapy effect and target a larger surface area for a quicker treatment time. The device has a new patented massaging treatment head, which combines the trio of acne-fighting technologies and creates a warming sensation, which feels calming on irritated skin''.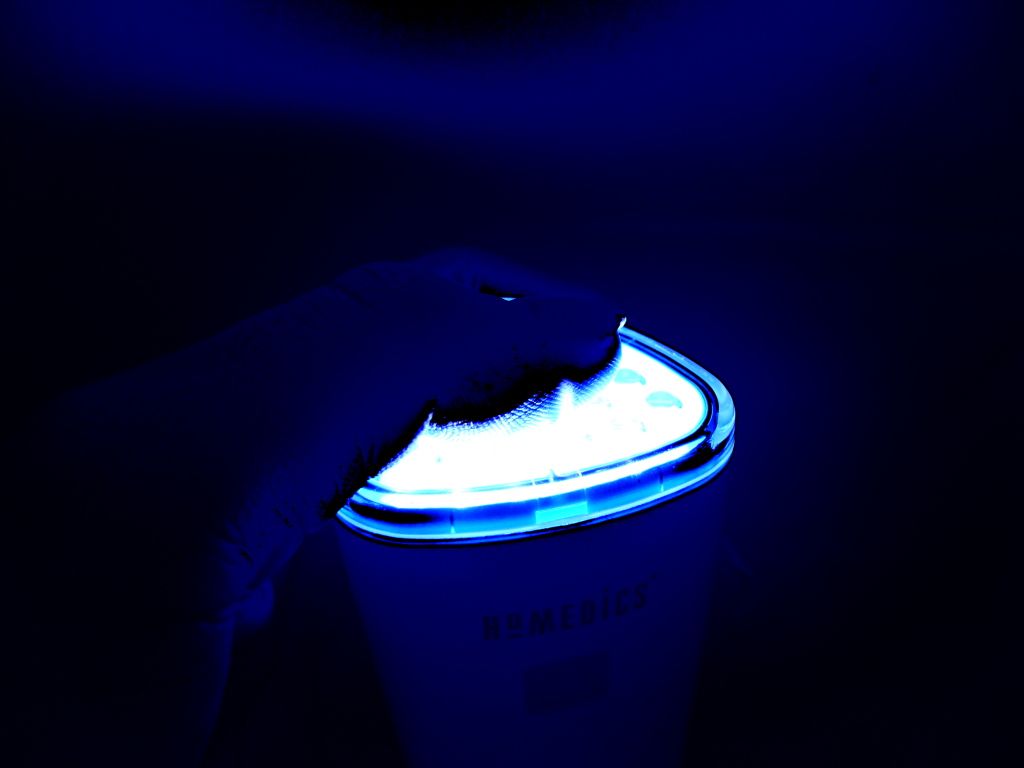 My first day of using this product I didn't quite know what to expect; ok I had read about the product and etc, but I had never used a device on my skin for acne. Targeting the area I wanted to treat I gently put the device over the affected area, whereby the blue luminous light shone brightly onto my skin, with the sonic vibrations. It is recommended that you treat the affected area for 3 minutes, where you will reap the most benefit. The device is also programmed to the recommended 3minutes, so you don't have to sit clock watching waiting for the treatment to be completed. It also makes beeping sounds, so for every minute completed you know how much longer you have to go, which I think is a pretty cool feature. Towards the end of the treatment I noticed the warming sensations coming through which I didn't find hot or unbearable at all, and after a while I did find it quite soothing on the area I was treating. I endured this for exactly two weeks, and here are the results: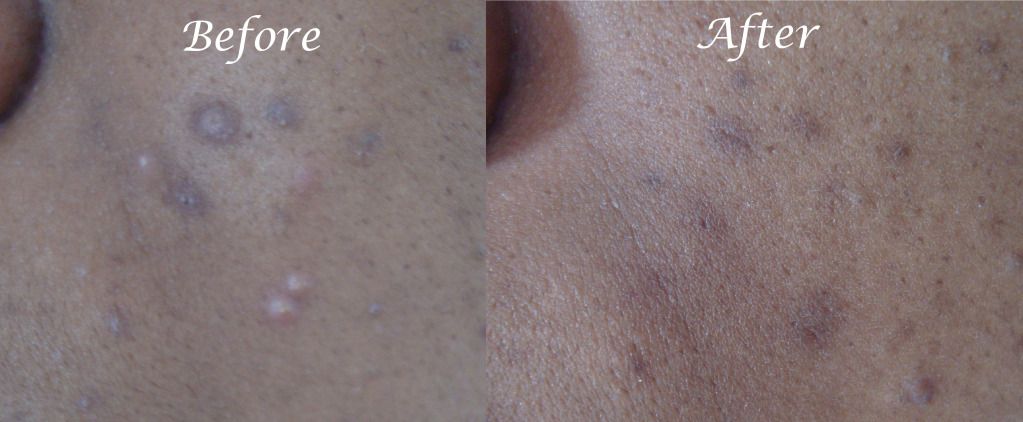 . . . . .What do you think? I have mixed feelings. Yes, I can see the redness and inflammation has calmed down and settled a lot. HoMedics also claim that 24hours is enough to see a significant difference in the complexion of your skin, and honestly? I did to some degree, but it wasn't that noticeable. But in terms of the blemish marks, they are still quite noticeable which I thought they would have been a lot fainter by now. The overall feel of the area however is nice and smooth, and not as oily. In terms of the product itself I found the device not heavy at all, which would be great for taking on holidays. The device also comes with a recharging stand (I charge this product once a week), a pair of goggles for those who find the luminous light too bright for their eyes, and an instruction manual in various languages.
The HoMedics Clear + Acne Professional Cleaning System* RRP £199 and is available from Boots stores, and Boots.com.
What do you think? Will you be investing in this product, or are you not so sure? Would love to hear your thoughts.