I started doing these kind of blog posts earlier in the year, but due to taking some time out from blogging (lost the mojo) I kinda lost track of it. So I am going to attempt doing these again as they are pretty fun to do. So here goes . . .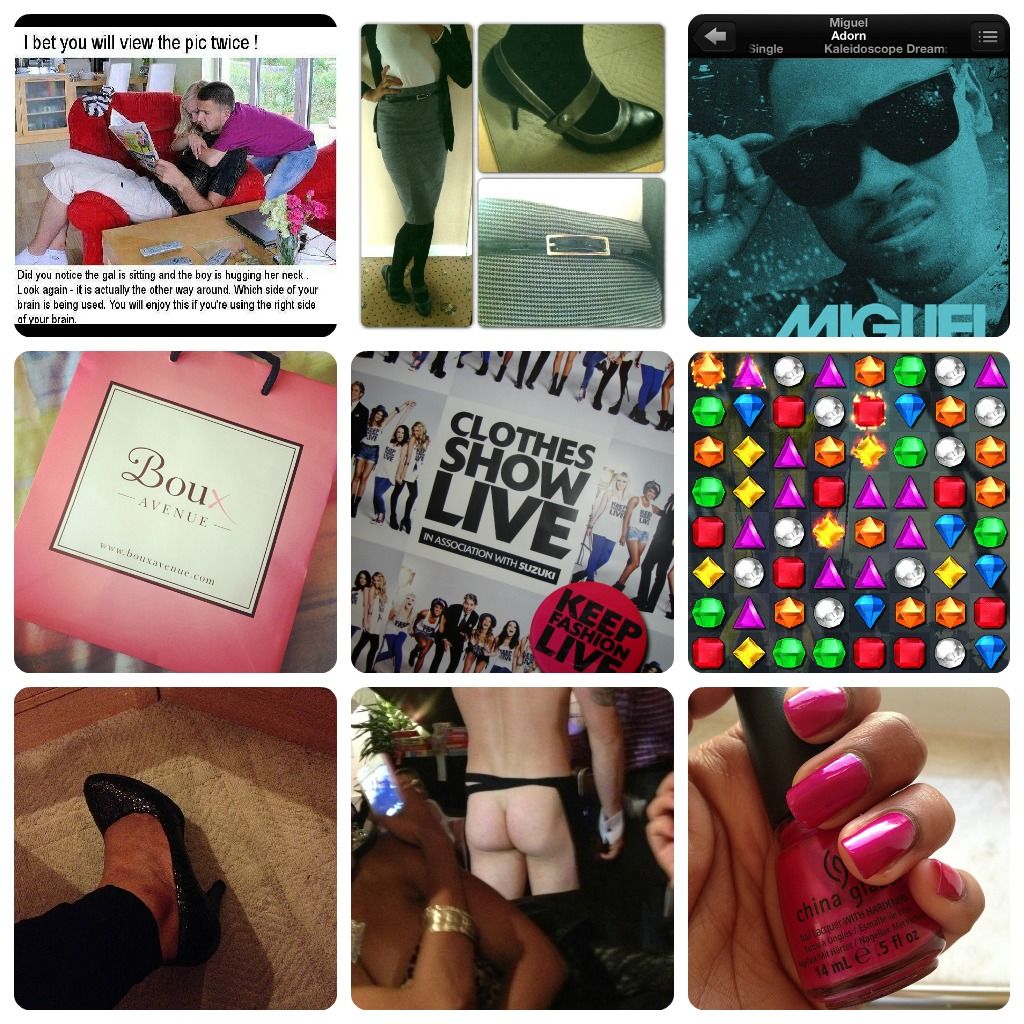 1) 'I bet you will view this picture twice' - I posted this on Instagram some time ago, but every so often I still catch myself looking at it as it's a pretty good illusion. Definitely gets the mind working, that's for sure!
2) OOTD 'Work' - I thought I have never snapped myself in my work attire, so here you go. I am loving at the moment the pencil skirt, and this being one of my favourites. I work in a medical establishment so I have to look professional, and have no flesh (boobage/leg) on show. This I thought was perfect for meeting those requirements, and looks very smart and classy.
3) Miguel 'Adorn' - I was bored one night, so decided to have a nosey through the iTunes charts, and I came across this guy Miguel. I had never heard of him, or the song 'Adorn', but thought what the heck I'd preview the track anyway, and OMG I'm so glad I did. I absolutely love the song, and basically have it on repeat, set as ringtone and message alert
(ha some would say obsessed much?)
but it is an amazing track. If you've not heard it, then head over to youtube.
4) Boux Avenue - I had an appointment in Bristol on Tuesday, and of course it would have been rude of me to catch my train back and not visit Cabot Circus! Of course I had to pop into my favourite shop 'Boux Avenue', and have a 'mooch' around, and good job I did as they currently have a 1/2 price sale on selected items. I didn't go bonkers and spend lots, but I did get a new bra which was originally £26, down to £13 - bargain!
5) Clotheshow Live - Last year and the year before my friend and I went to the Clotheshow in Birmingham last December. I am contemplating whether to go again this year, but I am not sure - who else is going?
6) Bejewelled - I saw my brothers girlfriend playing this on her phone, and I thought that looks rather addictive, and so it is! It's a great game to cure all boredom, but boy does it drain the iphone battery. . .
7) Shoooessss - A few weeks ago my Dad and I went to Clarks Village. I was expecting a lot of good stores to be there, but to be honest I was a little disappointed. That side, I did leave with 3 pairs of Clarks shoes; 2 ballet pumps for work and these gorgeous glitter shoes. They were originally £40, but I got them for £25 which is a pretty good bargain
(and they are very very comfortable)
. I do however want to wear them out, but I'm struggling as to what to wear them with - I was thinking leggings and a top of sort? Any ideas?
8) Butlers in the Buff - The clue is in the title . . .14 friends and I ventured out into our local neighbouring town, and attended the once a month 'girls night out' event at a local Italian restaurant. The waiters are literally naked, with only a pinny covering their 'modesty'. The evening consisted of a 3 course meal, plus a free cocktail for the mere cost of £19.95 which to be honest isn't bad. The Butlers themselves are all quite cute, very friendly and up for a laugh, and the overall night was really fun.
9) China Glaze 'Limbo Bimbo' - October is the month of Breast Cancer Awareness, and I thought as my way of showing that I am supporting the awareness and etc, I'd paint my nails bright pink. Ok it's a lil on the 'WOAH' side, but it is a gorgeous colour, and China Glaze nail varnishes are such good quality.
******************************
Hope you all enjoyed this post.
Do let me know what you think; if you'd like this to be a regular occurence on my blog, or not?
I look forward to hearing your thoughts.